A day after West Bengal Assembly Speaker Biman Banerjee urged Governor CV Ananda Bose to approve the 22 Bills following their passage in the legislature over the years, the Raj Bhavan on Wednesday said that no Bill was pending with it, barring those that are awaiting President of India's nod or are sub judice.
With Chief Minister Mamata Banerjee previously accusing the Governor of acting like an "agent of the BJP" by sitting over the Bills, the Raj Bhavan said that a unique initiative – 'Simplified Programme for Early and Effective Disposal'  (SPEED) has been launched to bring transparency into expediting the process of giving ascension to the Bills.
A new cell has also been set up by Raj Bhavan for "coordination between the Government and the Assembly".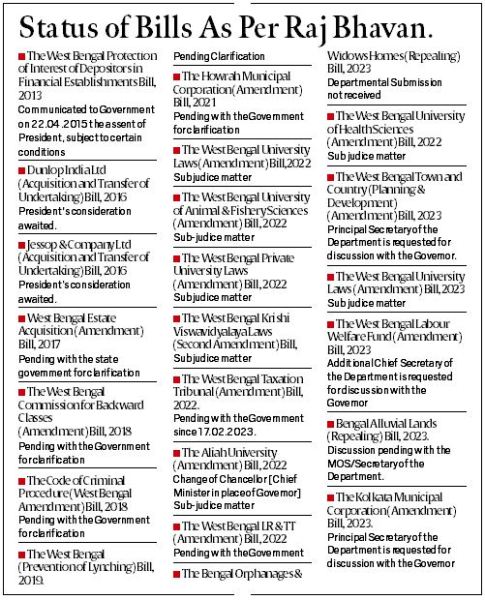 "The cell has the following members: Senior Special Secretary to Governor Deputy; Secretary to Governor Assistant Secretary, and Governor's Secretariat. The Cell will be under concurrent monitoring of the Governor," the statement added.
"CHARGE OF DELAY VS. LAUNCH OF SPEED. Raj Bhavan launches the SIMPLIFIED PROGRAMME OF EARLY AND EFFECTIVE DISPOSAL (SPEED) programme to counter the charge of delay in the disposal of Bills passed by the West Bengal Legislative Assembly. Under the SPEED PROGRAMME spot decisions will be taken on the basis of discussions with the concerned Minister and/or Secretary …" a press statement from Raj Bhavan stated.
In a separate statement, the Raj Bhavan said that the Governor held a meeting with his officials on Wednesday evening and it was found that no Bills were pending with it, and the "state government was informed accordingly".
Releasing a list of 22 Bills and their "status", the Raj Bhavan said: "It is clear…. that 12 Bills are pending for clarification from the state government; one has been assented by the Hon'ble President with certain conditions and two others are awaiting Hon'ble President's consideration."
It said that seven other Bills, related to university matters, are sub-judice.
A day ago, Speaker Biman Banerjee said that since 2011, a total of 22 Bills have been awaiting Governor's approval.
Most Read
1
Aamir Khan charged Rs 25 lakh for a commercial, Shah Rukh Khan was ready to do it for Rs 6 lakh as he wanted to buy Mannat: Prahlad Kakkar
2
Australia vs Afghanistan Highlights, World Cup 2023: Glenn Maxwell bangs 201* to inspire a three wicket heist in Mumbai
"Three Bills have remained unresolved from 2011 to 2016, four from 2016 to 2021, and 15 from 2021 until now. Among these, six bills are currently under CV Anand Bose's review," the Speaker had said.
In August this year, Chief Minister Mamata Banerjee challenged Bose over pending Bills on making her Chancellor of state universities. "If you (Governor) have the guts, then sign the Bills passed by the Assembly which makes the chief minister the chairperson or the chancellor (of state universities). Sign that Bill. That law was made during the British period. There were only three universities then. Today, we have 44-45 universities here. He will decide who will be the V-C of these universities?"
Most of these Bills were sent to Raj Bhavan for Governor's assent when Jagdeep Dhankhar held the post. After Dhankhar, La Ganeshan became acting Governor and he also did not sign the Bills. After that Bose became Governor.

Credit: Source link